Exmoor House Dunster has two guest lounges. Relax here with a cup of tea, coffee or wine (BYO) and be on holiday. Plan your day from a selection of information, maps and local books. Or just relax with magazines, books, or puzzles.
This is the time where you can sample an abundance of top quality produce which we source locally wherever possible. You can choose from a wide range of options including our 'Full Exmoor' breakfast with bacon, sausage and eggs, cooked to order. There is also fresh fruit salad, muesli, yoghurts, and cereals available to complement your experience. You can finish your meal with toast spread with honey, marmalade, or a variety of local jams.
Supper Platter/Lighter bites
There are many excellent places to eat in Dunster but if you are arriving late or just fancy a lighter bite why not try our supper platter. This consists of a selection of ham, chicken, cheeses, and pickles, served with a freshly baked baguette. We also serve baguettes with a range of fillings to choose from, ideal for packed lunches or as a light snack (all must be pre-ordered and are subject to availability).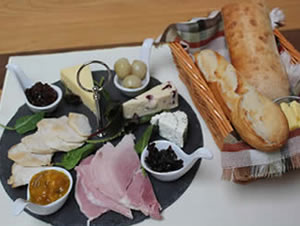 Parking
Exmoor House Bed and Breakfast is situated in the oldest street in Dunster.
We suggest that on arrival guests check for spaces on West Street, or if none are available then pull up immediately outside to unload bags and we will direct you to the best places to park., which are typically the following options:
Free on street parking in West Street (in the marked bays) and around the village, subject to availability. Additionally, free parking directly outside the guesthouse is permitted between 6pm & 9am (on the single yellow line)
Pay and Display parking in Park Street car park (300m away), or  Dunster Steep car park (550m away). Both are £1.10 per hour or £5.50 per day (9am to 6pm), but free overnight.  Ticket machines accept card payment, or you can pay via the PayByPhone app (if using this we strongly recommend downloading the app and registering for an account in advance).
Note that as of Spring 2022 there are no electric vehicle charging facilities in Dunster village, but some are available nearby – see this map for current information.
Access statement
We welcome people with disabilities and we will do all that we can to meet any additional requirements you may have. However, Exmoor House is an 18th Century Grade II listed building and retains many of its original architectural features. We hope that the following information may be of use to you prior to making any booking.
Vehicles are able to stop directly outside the building for the purposes of loading and unloading, and access from the roadway is across a short stretch of cobblestone pavement measuring 1 metre in width. There is one step up to the front entrance that is 20 cm high. The front entrance consists of a single door inward opening to a width of just under 1 metre into a carpeted hallway. At the end of the hallway there are an additional set of double opening doors 85cm wide, into the lobby area. All the bedrooms are on the first floor and are reached via a flight of 14 steps, which has a handrail on each side. There is no lift or other means of access to the first floor. The width of the stairway is 85 cm, with each step being 20 cm high. Access to individual bedrooms is via inward opening doors that are 75 cm in width. Additionally, Room 3 has a small step down into the room, and a small step into the bathroom. Rooms 1, 2, 3, 4 & 5 have walk-in showers whilst Room 6 has a standard bath with shower over.